IMPORTANT:

After claiming your spot above you'll get sent to a separate page to

finalize your reservation

. Even if you don't finalize your reservation, we'll send you a FREE gift via email upon submitting your info by clicking the button above.

Spots are limited

.
Miami - ONLY 5 Spots Left For:

Sat & Sun, July 18 & 19
8:00am to 7:00pm - Miami, FL

Sat & Sun, Aug 15 & 16
8:00am to 7:00pm - Miami, FL
Broward - ONLY 4 Spots Left For:

Sat & Sun, July 11 & 12
9:00am to 8:00pm - Davie, FL
Enter Your Name & Contact Info To Claim Your Spot!
We value your privacy and would never spam you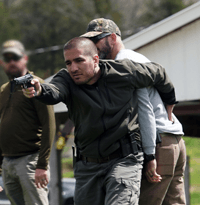 Head Instructor
Marcos Avellan
Owner of Miami Shooters Club, Glock Certified Instructor, Deadly Force Instructor under Massad Ayoob, Florida Armed Security "G" License Holder, and National Rifle Association Training Counselor with NRA Instructor Certifications for Pistol, Rifle, Shotgun, Personal Protection In the Home, Personal Protection Outside the Home, CCW, and Chief Range Safety Officer.
Do you like firearms training and have been wanting to become a certified instructor?  You have an opportunity to take an instructor course under the National Rifle Association (NRA).  NRA Instructors are provided with classes that they can teach and are recognized by many states, including Florida, as being qualified to conduct concealed carry courses.  Other benefits of being an NRA instructor include getting discounts from certain gun manufacturers and gun supply companies.  Our instructor course class package consists of an online class prerequisite (8 hours and done on your own time), an instructor-led basic pistol course prerequisite (8 hours and is the first day of our training), and then the NRA Pistol Shooting Instructor Course (16 hours done over the last two days of our training).
What You're Going to Learn
Safety Rules - You'll learn the NRA's rules for safe gun handling and the common safety rules and etiquette at the shooting range.
Gun Parts and Operation - Learn how to teach and present the different gun parts on semi-automatic pistols and revolver, how to clean firearms, specifics about ammunition, and how to operate guns.
Shooting Fundamentals - You will learn how to teach and present a proper stance, grip and hold control, aim using sight alignment and picture, proper trigger pull technique, proper breath control, and follow through. You will also learn how to teach loading and unloading a semi-auto pistol, revolver, and single-action revolver.
How To Teach From The NRA Guide The NRA courses you will be teaching from as an NRA instructor are very organized and systematized. Our Pistol Instructor course will teach you how to teach from the guide and have a consistent class.
And Much More - We have a great class planned - come and learn!

WARNING: LIMITED SPACE AVAILABLE
There are only 5 spots left in Miami and 4 spots left in Broward. I take 15 per session, and only 15 per class because I want to make sure everybody gets plenty of attention from me because I believe that those who take the important step of teaching others firearms should get personalized attention.
When the spots are gone, they are gone.
Do You Love Shooting Guns... And Would Like To Make $$$ Teaching Fun Classes And Concealed Weapons Permit Courses?

Become An Instructor Under the Largest Firearms Training Organization In America - Take The NRA Pistol Instructor Course.
Enter Your Name & Contact Info To Claim Your Spot!
We value your privacy and would never spam you